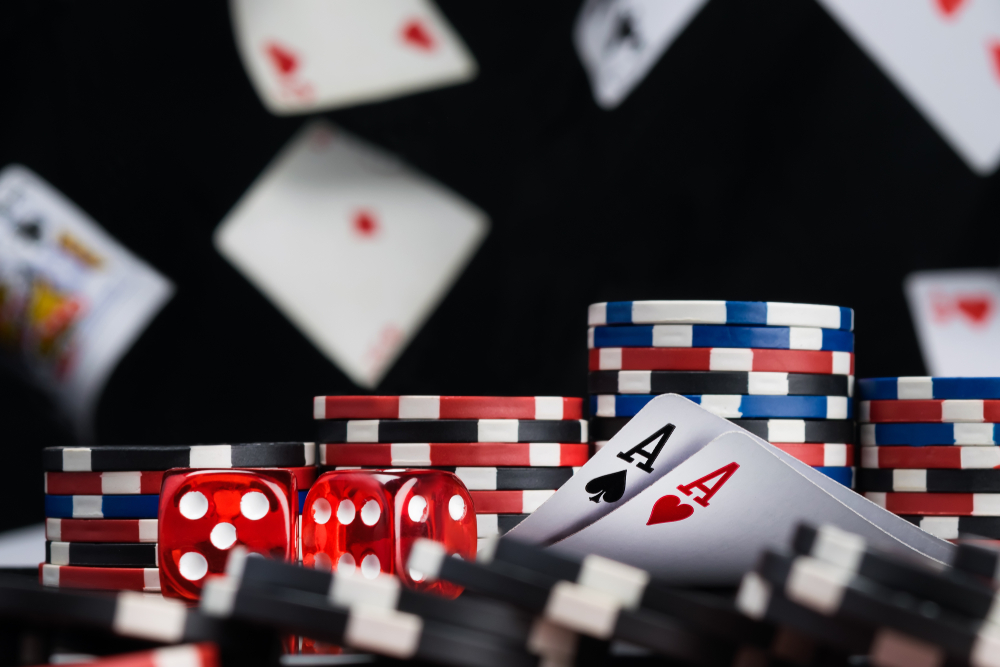 Our Live Casino has a whole host of classic poker games as well as classic games with a twist! Come and take a look at our round up of them below and maybe you'll see something that tickles your fancy!
Casino Hold'em
Casino Hold'em is a slight variation of the popular Texas Hold'em game in which players compete against the house and not each other. The aim is to get the best five-card hand from the two cards dealt to the player and the five community cards. To make things even more entertaining, each player can place an optional bonus bet that pays when a pair of aces or higher is dealt during the first five cards.
Play Casino Hold'em at our Live Casino!
2 Hand Casino Hold'em
An interesting take on a typical poker game in which, as the title suggests, players can play with two hands. This will give you double the chance of winning, as, in standard poker, the game is over when losing on one hand. You also have the option of the AA Bonus Bet. This is a side bet that pays out if a player has a pair of aces or higher. 2 Hand Casino Hold'em can be played on any type of device, and with its glossy silver studio, it's certainly worth a try!
Caribbean Stud Poker
This is one of the few live Caribbean Stud Poker games that you'll find online, making it an immensely popular choice. The live dealer and the player both get five cards. The player's cards are dealt face-up, but only one of the dealer's cards is face-up. Players are also able to win the 5+1 Bonus side bet here. The player's five cards and the singular face-up card from the dealer are the only cards in play. If the cards are 'three of a kind' or better, the player will be eligible to win the bonus money, which includes a jackpot prize if a royal flush is produced.
The player now has to decide whether to raise or fold; the remaining four cards of the dealer are then turned face up, with the player finding out if he has a winning hand.
Play Caribbean Stud Poker here!
Three Card Poker
Three Card Poker is ideal for beginners as there is all the fun and excitement of a regular poker game, with this one being based on the hands of three cards. The dealer has to play with a queen high or better. The best hand a player can get is a Mini Royal which consists of an ace, king and queen. Players can receive an ante bonus if they have a straight or better, regardless of the dealer's hand. The Pair Plus and Six Card Bonus bets provide players the opportunity to win payouts of up to 1000: 1 making this game also desirable for experienced poker players.
Ultimate Texas Hold'em 
Ultimate Texas Hold'em is the classic version of the game, with players needing to obtain a better five-card hand against the dealer. The "play bet" is the key feature of this particular game. If the player makes an early play bet, they can raise 3x or 4x. However, if it's done after the flop or river, a raise of only 2x or 1x is feasible. There's also a "trips bet" option which allows you to win if your card is three-of-a-kind or higher regardless of the dealer's hand.
Play the Ultimate Texas Hold'em game here!
Side Bet City
Complete with dazzling neon lights, Side Bet City takes you back to 1980s Las Vegas for an entertaining, quick-paced poker game made to be played against a paytable consisting of an unlimited number of online players and not the dealer. Players bet on if they will win on a 3-card hand, a 5-card hand or a 7-card hand, or on the 'All Lose' option. The player can bet on any mixture of these bets.
Winning hands are decided on all the typical poker hands, and decisions aren't required by the player after placing their selected bets. If the player's bet wins, a winning message will appear on the screen.